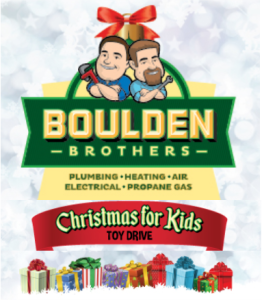 Help make this the happiest time of the year for children in need across Delaware. 93.7 WSTW and 101.7 WDEL are proudly supporting Boulden Brothers Christmas for Kids.  Help us gather new, unwrapped toys and gifts for children in need through Sunday Breakfast Mission.  We care. You give. They smile.  We're making donating super easy… now until December 12th.
Call Boulden Brothers at (302) 368-3848, to have one of their friendly techs stop by your home to pick up your donation
Boulden Brothers 107 Sandy Dr, Building 700 in Newark to drop off your donation in person
Come to our offices at 2727 Shipley Rd in Wilmington during regular business hours (Mon-Fri 8 am-5 pm)
Not sure what to donate?  Here are some toy suggestions:
• "I'm Gaming" Tees and Socks
• Action Figures
• Adventure scrapbook and journals
• Anything Pokeman
• Baby Dolls, Strollers, Clothing, Cribs
• Baby Yoda Dolls
• Barbies
• Beard Trimmers and Shave Kits
• Beauty/Bath Products (i.e. Lotions, bath bombs, facial masks)
• Bikes and helmets for all ages
• Bluetooth accessories (Headphones, earbuds and covers, Smart Speaker)
• Building Sets (Wooden Blocks, LEGOs, Knex, Magnetic Tiles)
• Charging hubs and Cables, Portable Charger
• Colored pens and markers
• Coloring Books for Adults
• Costume Jewelry
• Crocs, Cloud Slides, Nike Slides
• Development/Learning Toys
• DIY Craft Sets
• Electronic Drawing Board Tablet
• Electronic learning Sets
• Fidget Toys
• Grow with me Toys
• Hair accessories (Hair dryers, straighteners, curlers, hair ties)
• Hair Styling Dolls and Items
• Jogger and lounge pants
• Magnetic Dart Board
• Make up/nail polish sets
• Mini appliances (Air fryers, waffle maker, kuerig)
• Musical instruments
• No Mess Craft Kits
• Phone Purse or Women's Purse
• Pretend Play Sets (Kitchen and Food, Camping, Construction)
• Roll-Play Costumes, dresses and shoes
• Skateboard
• Smartphone Camera Lens
• Specialty Food Sets (Hot sauce variety sets, chocolate sets)
• Sports Balls (Basketball, Soccer, Football)
• Sports Clothing
• Squishy Toys
• String/LED lights
• Trains, Cars, Trucks Playsets
• Water Bottles and Coffee Mugs
• Weighted blankets
• Yoga Mat
It's the Boulden Brothers Christmas for Kids Toy Drive – We Care, You Give, They Smile.
With 93.7 WSTW and 101.7 WDEL!