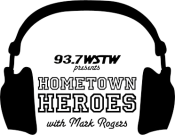 WSTW is proud to present Hometown Heroes, a weekly program spotlighting the best local, original music from the Delaware Valley! Hosted by Mark Rogers, Hometown Heroes is broadcast every Sunday, 8-10pm. We play the music and provide information about where you can see these bands perform live, how to get their music, and how to contact them. We'll even bring some of them into the studio to perform live on the air.
---
Congratulations to the 2019 Homey Award Winners
Click here to see who won
---
Want everyone listening to Hometown Heroes around the world to hear your stuff? Send your music, along with all the pertinent information, like your band's bio, contact information, website, and where people can purchase your music, to:
WSTW's Hometown Heroes
2727 Shipley Rd
Wilmington, DE   19810
Please note that all music must be submitted on a standard audio CD. MP3s, MP3 CDs, cassettes and DATs are not acceptable for on-air broadcast.
Also, keep us up-to-date, so that we can plug your band on the show. Send general news, information, concert dates, etc., to Mark at mrogers@wstw.com.
Special thanks to Josh Dannin for creating the new Hometown Heroes logo!