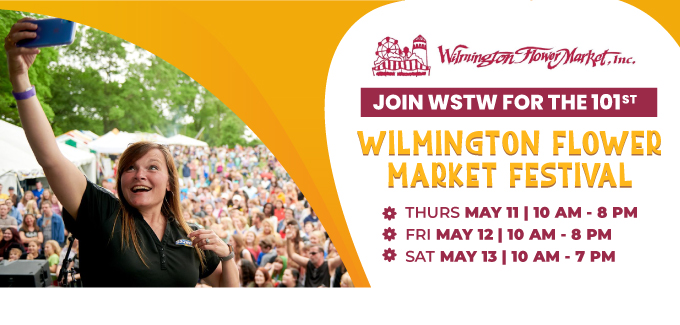 Thursday, May 11 | Friday, May 12 | Saturday, May 13
Rockford Park, Wilmington, DE
WSTW, Apple Auto Mitsubishi and Concord Dental proudly present the return of the Wilmington Flower Market Festival at Rockford Park for its 101st year!  This admission-free, three-day extravaganza is filled with flowers, craft tents, food, carnival rides, a petting zoo, games, beer garden and live entertainment and has raised more than $4 million for over 50 children's charities in Delaware in the past 100 years.  The Wilmington Flower Market, Inc. is an all-volunteer, non-profit organization dedicated to supporting children's charities in Delaware.
As the exclusive media sponsor for the past 40+ years, WSTW has provided all of the live entertainment for the event and we hope to see you this year with your blankets and chairs enjoying the entertainment all day long, all three days!
Be sure to stop by the WSTW Broadcast Tent sponsored by Dixieland Energy to say hello to our WSTW on-air personalities!
Please bring lots of sunshine with you (no rain)!  We can't wait to see you there!

10-11am         Mr. Skip (Songs for Kids)
11-12pm         Jungle John (Reptile Show)
12-1pm           Flip-N-Mickeys (Celtic Rock Cover Band)
1-2pm             David Darwin (One-Man Sideshow)
2-3pm             Emily Drinker (Folk, Pop, Rock Original Artist)
3-4pm             Andrew Moorer (Pop Rock Original Artist)
4-6pm             Kicking Sunrise (Hip Hop, Pop, R&B Cover Band)
6-7pm             Haha Charade (Indie Rock Original Band)
7-8pm             Jimmy & The Parrots (Jimmy Buffett Tribute Band) 

10-11pm         Sing Along Princess Parties with Superhero Friends
11-12pm         I See Magic (Interactive Entertainment)
12-1pm           Phillie Phanatic
                         Note: 35 to 40-minute appearance between the hours of 12pm-1pm.
12-1:30pm      Charlie Manuel (World Series Champion Baseball Manager)
                         Note: Brief Q&A. Autographs and pictures following.
12:30-2pm      Broad Street Appeal (Modern Rock Cover Band)
2-3pm             Meadow Perry (Bubble Magician)
3-4pm             Red Smith (Folk, Country, Rock Original Artist)
4-5pm             John Faye (Indie Rock Original Artist)
5-6pm             Carly Simmons (Country Americana Original Artist)
6-8pm             Royals (Alternative, Pop Cover Band)  

10-11am         Music Play Patrol Featuring Mr. Boom Boom
                        (Music for Children)
11-12pm         Party Princess Productions (Storytelling with Alice & her
                         Wonderland Friend/Adventures with the Superheroes)
12-1pm           Beatlemania Now (Beatles Tribute Band)
1-2pm             Ridiculous Nicholas (Family Comedy, Variety Entertainer)
2-3pm             School of Rock Hockessin (House Cover Band)
3-4pm             NITRO NITRA (Classic Rock Original Band)
4-5pm             Die Tired (Modern Rock Original Band)
5-6:30pm        Phillip Phillips (National Platinum Recording Artist) 
                        Note: Five-song acoustic set. Autographs and pictures following.  
Schedule could be subject to change. If changes occur the updates will be on this page.